Traditional Japanese architecture was first established in the 7th century with the introduction of Buddhism to the island. Tall pagodas were erected as places of worship. Distinct in their construction, the pagodas derived their strength from an internal central pillar and various support pillars on each floor. The eaves of each level follow a straight line, each level's edge growing shorter. The greater the difference in the length of each roof, the more solid and stable the pagoda appears.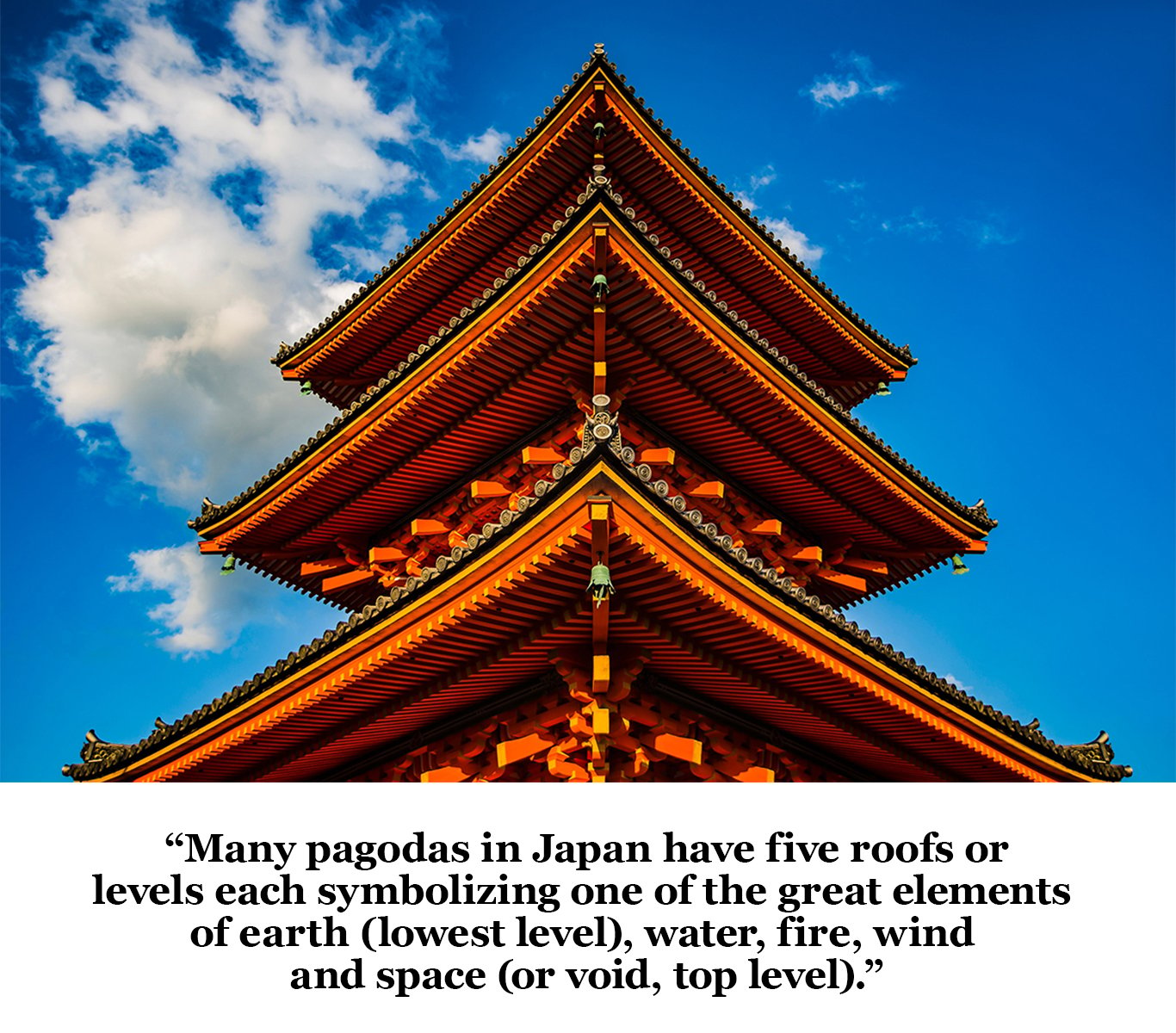 Buddhism may have also influenced what the structures were made from. Wood was the preferred building material due to its natural abundance on the island while stone was reserved for the base of sacred buildings - shrines and temples. As a building material, wood only posed one problem; it weathered and rotted. Nature is central to Buddhism and is viewed as dynamic. Nothing remains static and everything formed is in a constant state of change, despite our interference. Weathering then was seen as the natural aging of a dynamic natural world and the process of rebuilding a temple a catalyst for new change.
The roof of the building remained the dominant architectural element in traditional Japanese buildings for the next 10 centuries. Inside, the rooms are minimal and open. Shoji, sliding panels of translucent paper in wooden frames, or fusuma, more robust sliding panels that act as doors or walls, were used to divide the larger space into smaller areas, depending upon the occasion.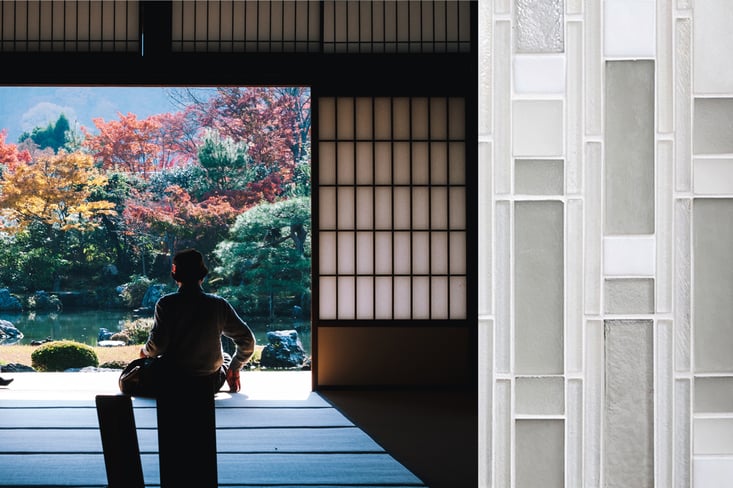 Shoji that blends with Japanese Garden and Muse Repose pattern in Morning Mist Blend
Following a period of isolation, Japan's reaction to Western culture and styles was like a tidal wave. New military and industrial buildings resemble plantation style homes of the American South or palatial residences of Western Europe. Modern Japanese architecture moves to find balance between traditional styles and the Westernization of the 19th century.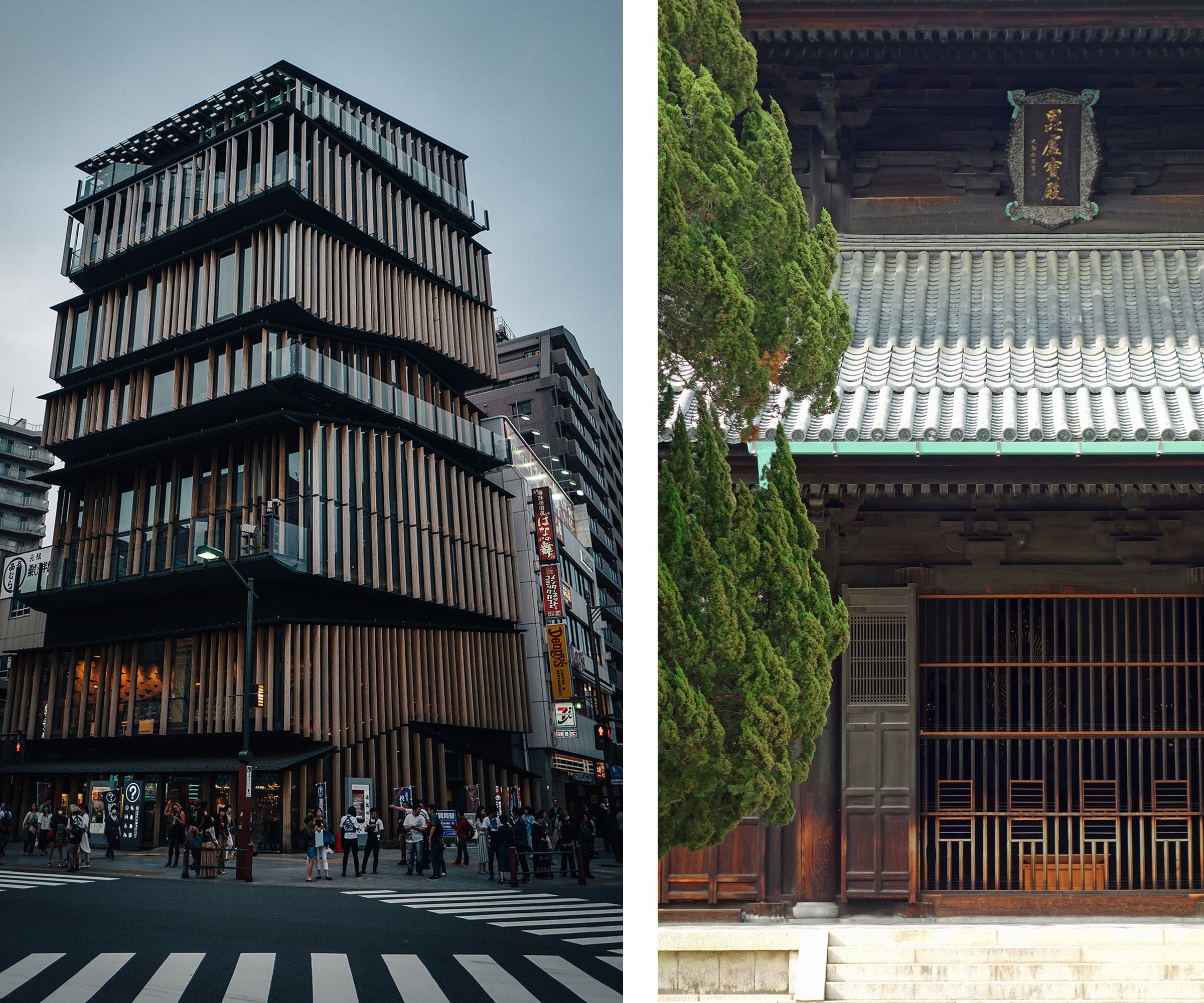 Modern architecture scene in Tokyo & Traditional temple in Kyoto

Today's architects design with natural elements in more permanent ways. Unlike their predecessors, it is no longer economical (or safe) to rebuild once the walls start to rot away. Reminiscent of a sci-fi novel, the Shizuoka Press and Broadcasting center looks like a futuristic tree while the Kanagawa Institute of Technology opts to bring the outside in with large, reflective glass windows. Both buildings also incorporate pillars after the pagoda style. The Shizuoka Press and Broadcasting center features a single support pillar while the Kanagawa Institute of Technology has many pillars throughout the landscape. Still some opt for far more traditional interpretation, like the Nezu museum which features a prominent roof but with a far more Mid Century Modern style to its lines. Fitting, as the building is home to antique works of Japanese art.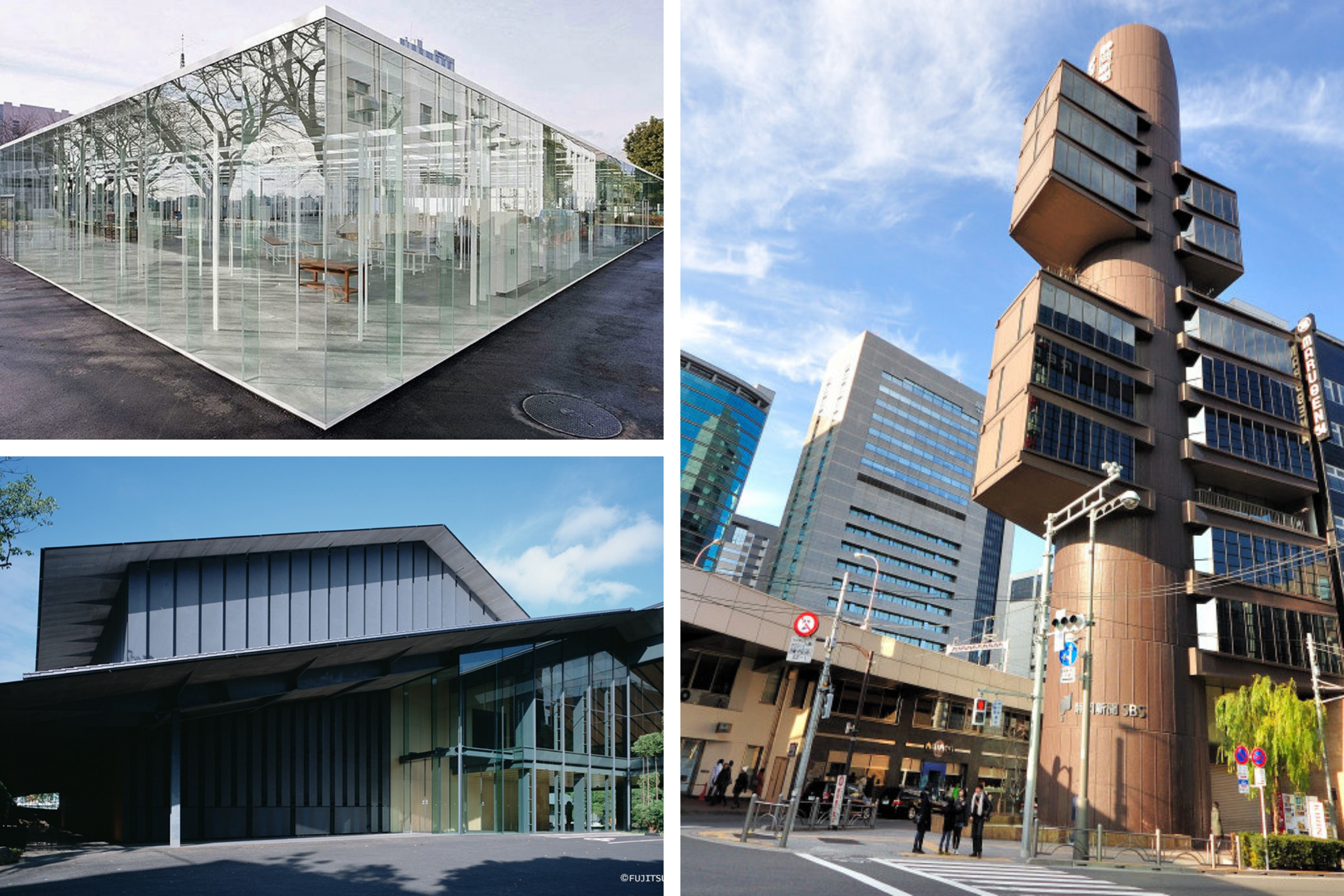 Top Left: Kanagawa Institute of Technology; Bottom Left: Nezu Museum; Right: Shizuoka Press and Broadcasting
Pasta Canovietta in Tokyo's Ueno Station is a case study for blending modern and traditional Japanese aesthetics. Strong support pillars along one wall mimic structural pillars found in pagodas while the lowered ceiling over the kitchen creates the illusion that the pillar continues on, holding up the ceiling. The entire restaurant is open to view at a glance - there is not a barrier into the kitchen or to the back of the restaurant. A few shoji could quickly create intimate spaces within.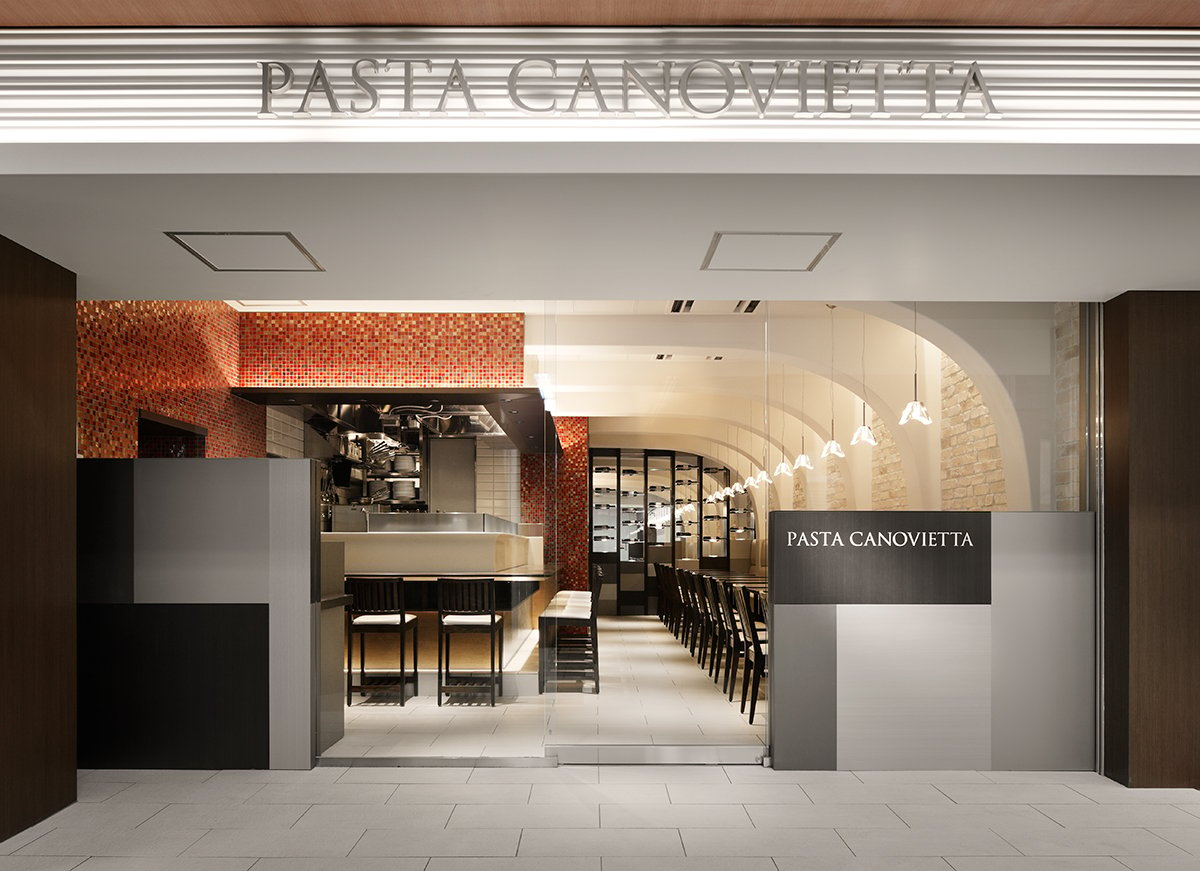 Tessera 1"x1" Disco Inferno Blend at Pasta Canovietta, Ueno station, Tokyo
There is one dominant Western influence in Pasta Canovietta -- it is an Italian restaurant in a Tokyo railway station. West meets East as diners enjoy traditional Italian classics like carbonara or risotto. Glass was also not a traditional building material in Japan, yet the designer selected a vibrant red and metallic bronze glass mosaic as an eye catching feature wall. It runs the length of one half of the restaurant. A true duality of design as the restaurant appears split between the two building materials.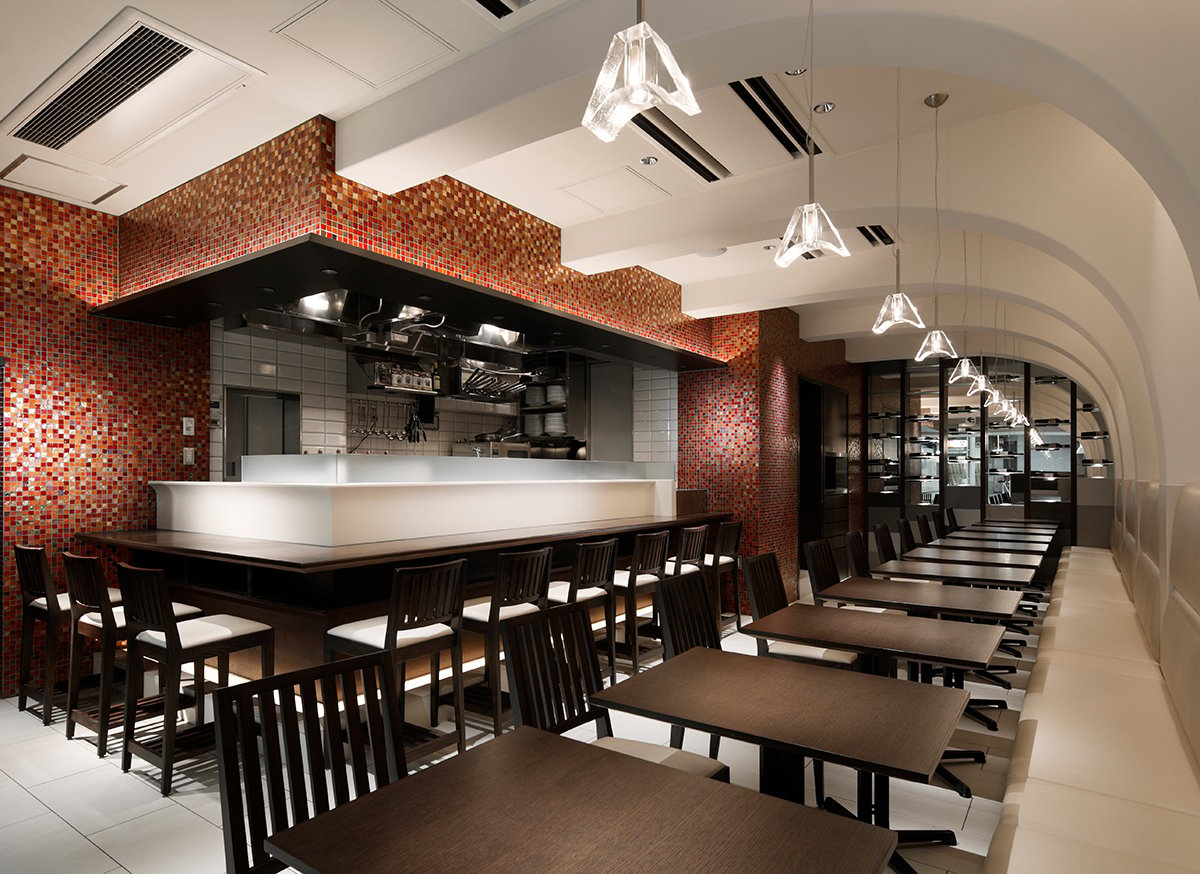 Tessera 1"x1" Disco Inferno blend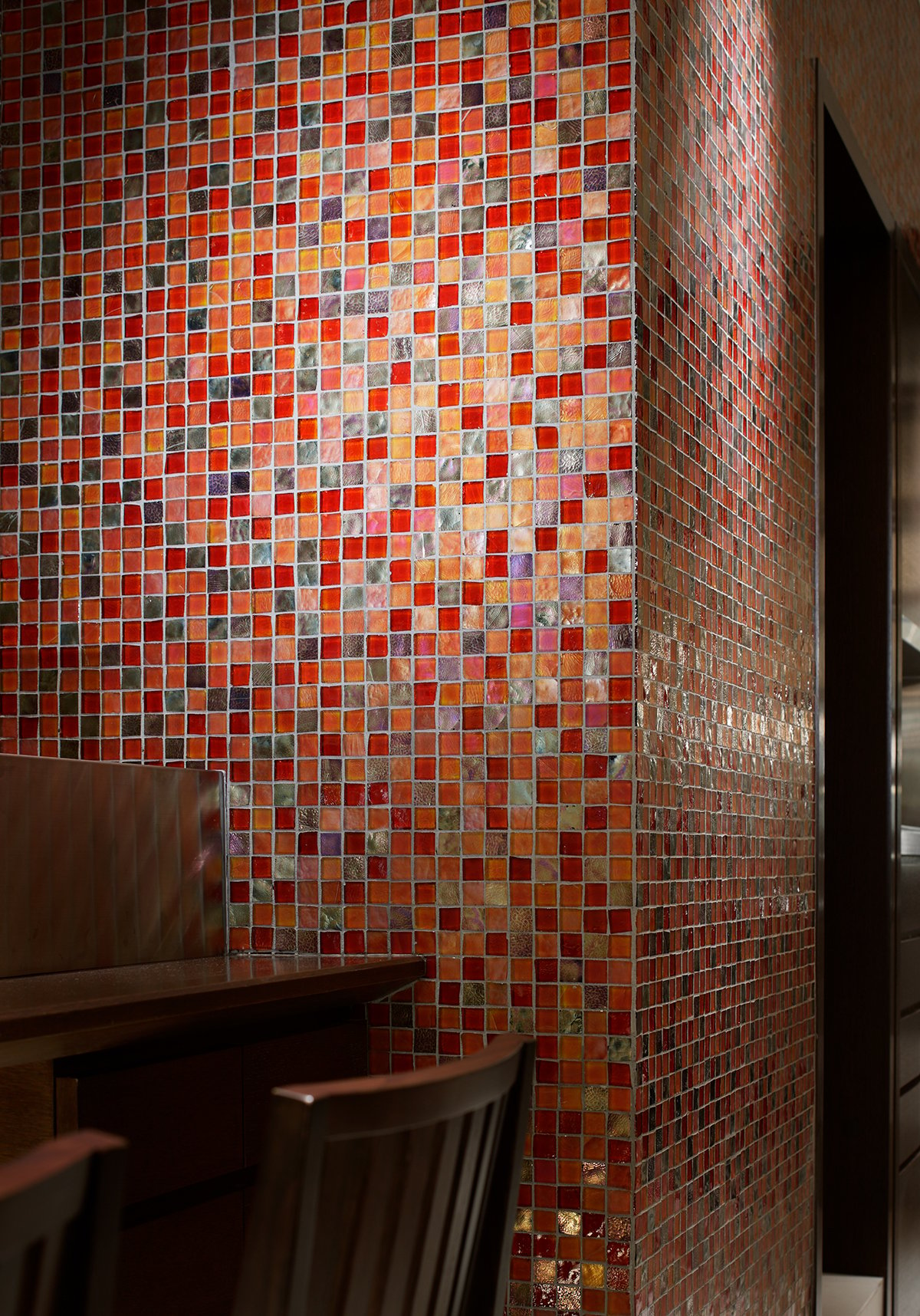 Tessera 1"x1" Disco Inferno blend
Taking some inspiration from nature, the glass mosaic wall by Oceanside Glass & Tile also appears like a roaring fire. The chef cannot cook without his flame. Good thing his kitchen is engulfed in tile.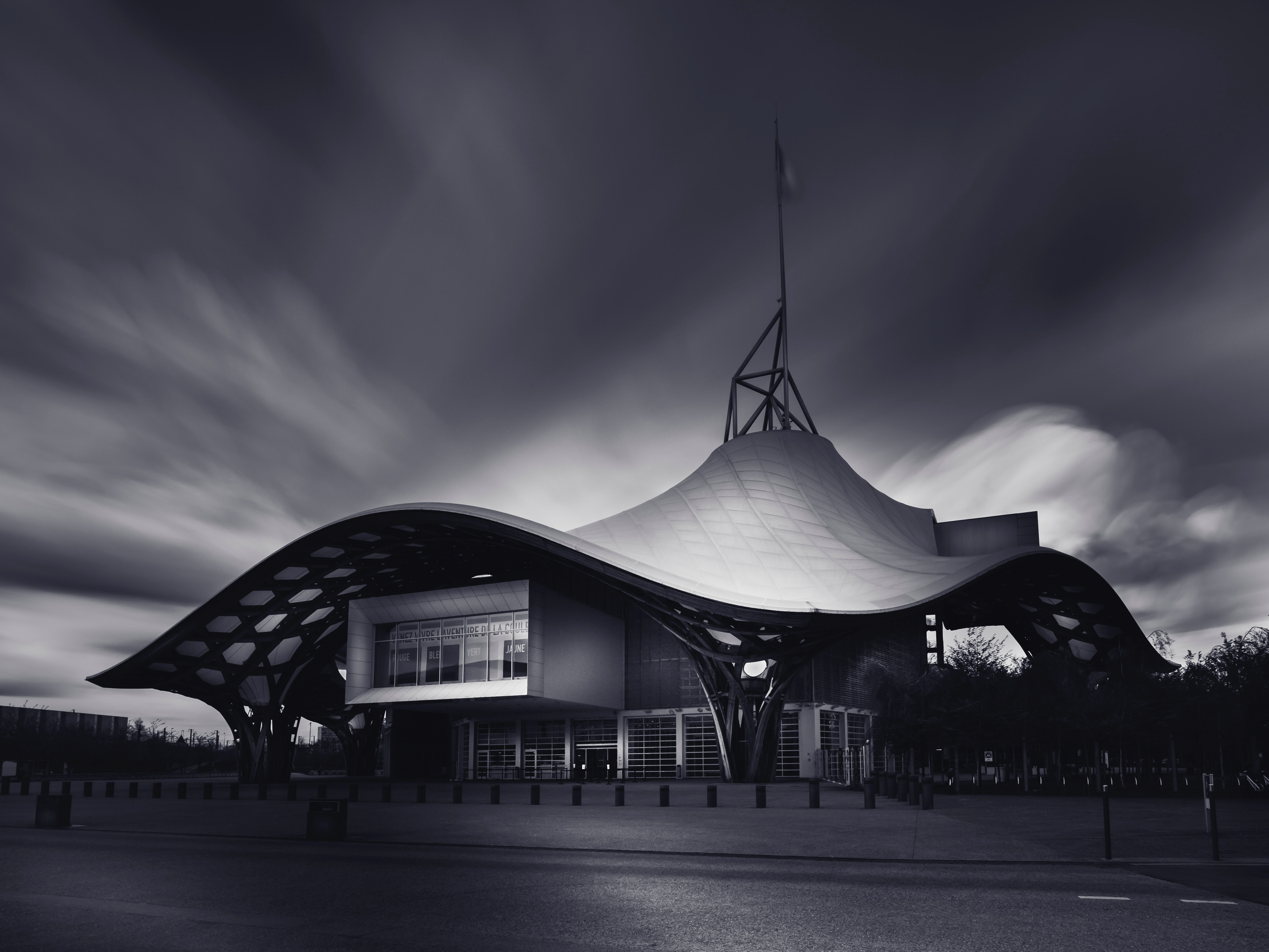 Center Pompidou Metz by Shigeru Ban, Winner of 2014 Pritzker Prize
Old world and new world are intertwined in contemporary Japan's architectural landscape. A country grappling with density and overpopulation, architects and designers are looked to for more than solutions; they're looked to for innovation, change, and survival. Maybe this is why, of the 42 Pritzker Prize laureates, eight are Japanese.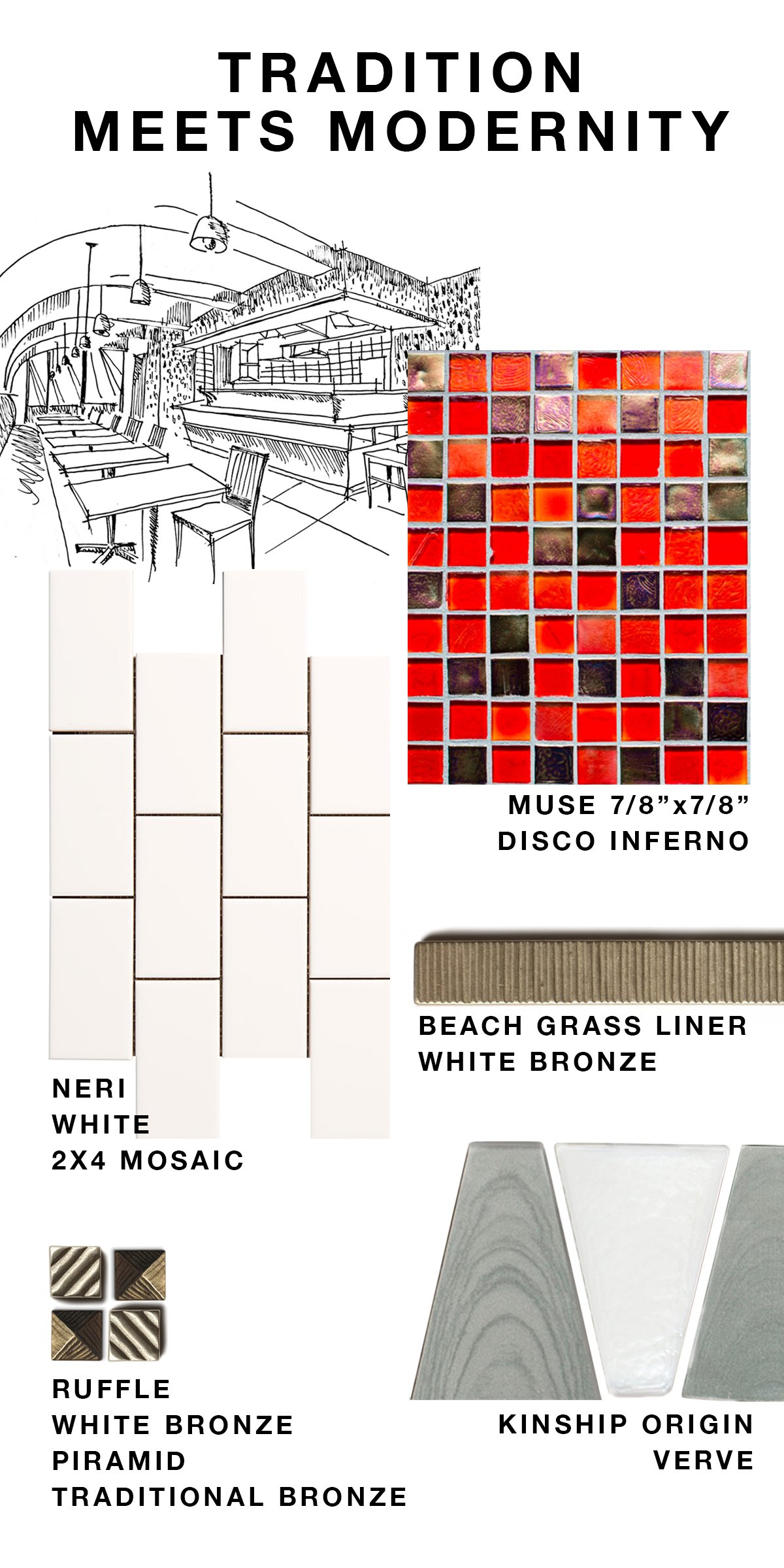 Would you like to explore more surface materials inspired by this story? Oceanside Glass & Tile's A+D Sales + Design Executives are ready to help you discover, sample, and order your perfect tile, pavers, or coping. With direct access to time tested manufacturers, the A+D team is excited to share with you their catalog of antique mirror, ceramic, cement, glass, metal, porcelain, and stone. Contact your rep today!