Often overlooked, the pool bottom is the perfect canvas for the jewel of the property. Where most would turn to plaster, commercial and residential properties are now looking at the floor of a pool, spa, or water feature as a blank canvas.

Custom Murals

Custom mosaic designs, like this mural designed and installed by Greg Andrews of National Tile and Stone, were once set by hand under the keen eye of a mosaic artist. Today, through the use of CAD drawings and a staff of in-house artisans, Oceanside Glass & Tile can create a pre-sheeted mosaic masterpiece. Complete with a grid map, each custom mural is delivered "paint by numbers" style, resulting in a seamless final installation.
Medallions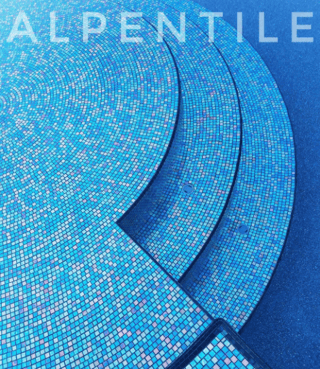 For watershapers Luke and Amy Denny of Alpentile, utilizing Oceanside Glass & Tile's mosaics to create custom medallions is one of their signature moves. Known for their unique and innovative waterscapes, Alpentile takes pool bottoms to the next level by mimicking a water ripple as their handcrafted radials expand ever outwards to the pools curved edge.
When discussing how they achieve such fluid shapes, Luke credits working with a paper-faced tile, "It allows for the most flexibility and customization out in the field, so if we have some compound curves and free-form shapes, the product allows itself to be massaged into those environments."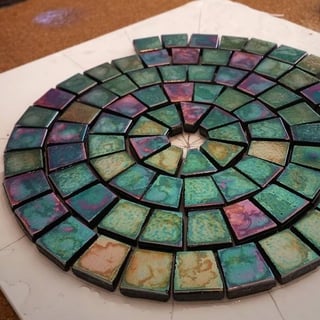 Each medallion is a work of art and a study in geometry. Alpentile's mastery requires a steady hand and meticulous attention to accomplish the perfect cut on each piece of mosaic they lay. A quick glance at their Instagram shows the process is labor-intensive, but the results are well worth it.
Color Play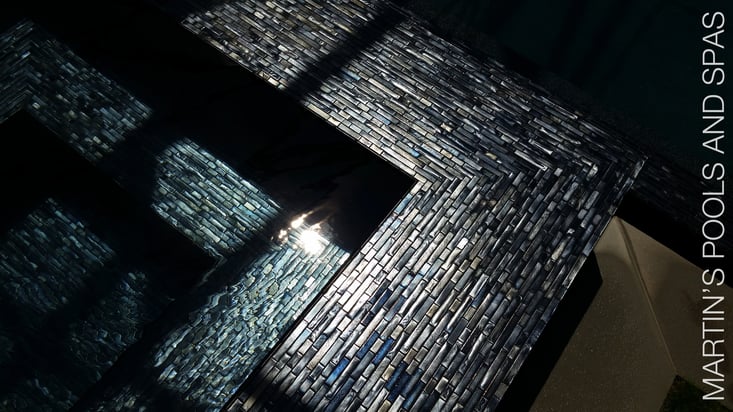 Why is the sky blue? Short answer, because the ocean's water absorbs all of the other colors of the spectrum, reflecting blue back up into the atmosphere. Bend the laws of physics to your artistic expressions through colorful, glass-bottomed pools.
Black bottoms, like Martin's Pools and Spas installation, give off the illusion of infinite depths or choose from a catalog of blue hues to replicate a tropical isle. Bright blue Caribbean seas? Try Pacific Iridescent. Unreal teal lagoons? Try Tropical Reef. Or maybe you want to recreate the deepest caverns of our mysterious underwater world. Our recommendation, silver blue Sapphire Iridescent.

When one homeowner wanted a modern, streamlined look that didn't distract from the water, Alpentile suggested Satin Iridescent, an opaque white color with an iridescent silver finish, which reflects sunlight as white, "Creating a very simple and elegant design that highlights the purity of water," says Amy Denny. Check out our curated collection of Light, Bright, and White Pool Tile and watch your water shine.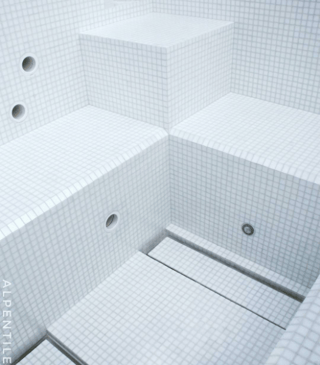 Replicate Reality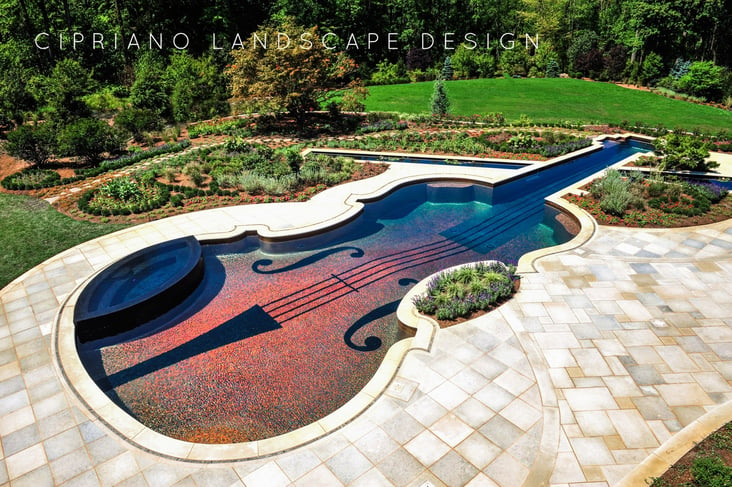 Through the use of gradients, water-jet shapes, and color movement, the above violin pool came to life not just in form but color and texture as well.
Maple's richness and depth were captured through custom gradients, concentrating the warm amber tones near the bridge while sheeted mosaics were water-jet to create the f-holes, tailpiece, and strings; a design detail previously attainable with a mosaic artist. A true labor of love, this masterpiece came to be through the close collaboration of the Oceanside Glass & Tile Engineering Team, Technical Support Team, and the designer/builder Cipriano Custom Swimming Pools & Landscaping.
Whatever shape your dream pool may take, the oft untapped pool bottom is ready for your creative expression. From custom mosaics to precision placement, no dream is too grand to achieve in glass tile. Explore more outdoor living designs here.
For more pool bottom inspiration, head over to Luxury Pools + Outdoor Living to read their article "Picture Perfect Pool Bottoms."
To see the entire Luxury Pools + Outdoor Living magazine, click here.