Once upon a time…
In a desert known for dates, Mid Century Modern design, and music festivals, two people on the cusp of being called "millennials" (although they'd never be caught dead wearing labels) fell in love.
Everyone wants to fall in love at a music festival but in a sea of 10,000 sweaty, inebriated bodies you're about as likely to find true love as you are to find a needle in a haystack. But it happened for two souls one windy April evening, standing center left of the main stage, under the glow of 50-foot screens. She was off key. He was off beat.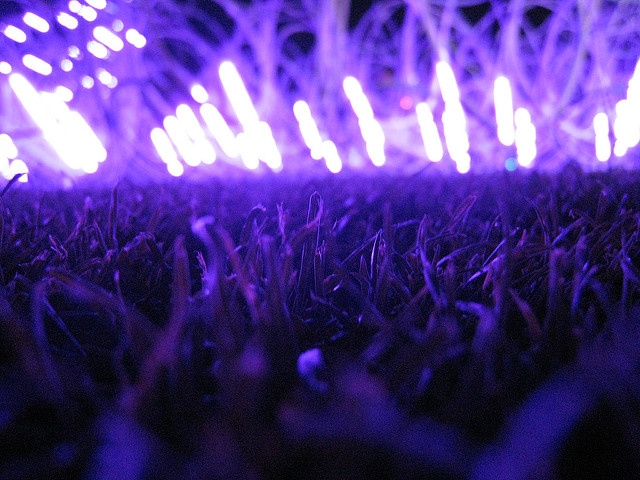 Flickr
That was many summers ago now and they have faithfully returned to the same valley every year to fall in love with music, art, and each other all over again. There were many adventures in between to far off worlds where the language was not their own, to sandy beaches and white-capped mountains, but ultimately the valley drew them back.
It was under the same glow where they first fell in love that she looked to him and proposed, "Let's never leave."
The following day they contacted a local realtor and began the arduous hunt for their perfect home. They saw duplexes and ranch homes and mansions and homes behind gates and homes tucked away behind long driveways and they were just about to give up hope of ever living in their forever adventure when they drove past an unassuming abode.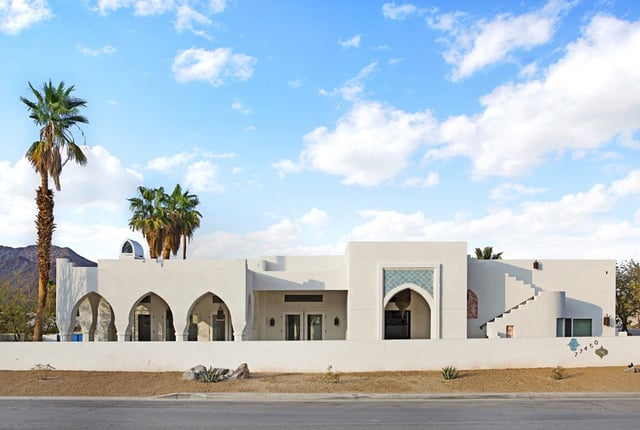 "How odd," they thought as they pulled up to the curb. "This house looks like it was transplanted from a far-off land." A little rough around the edges. The arches felt Moorish and the courtyard reminded the couple of countries where community is valued over the nuclear family.
As they wandered around the property they fell in love with the open kitchen and the winding staircase to the roof of the building. "All the better for entertaining," he said, and her smile told him all he needed to know. This house would be their home.
After some renovations…
The pipes leaked, there were cracks in the walls where the wind swept the desert dust in, and whoever lived there before needed an interior designer. On top of that, the windows didn't seal, the oven wasn't true, and the bathroom smelled like mildew. What had our "not-millennials" gotten themselves into?
They hunkered down with their laptops and put together mood boards, finding finishes, coordinating design aesthetics, and contacting contractors.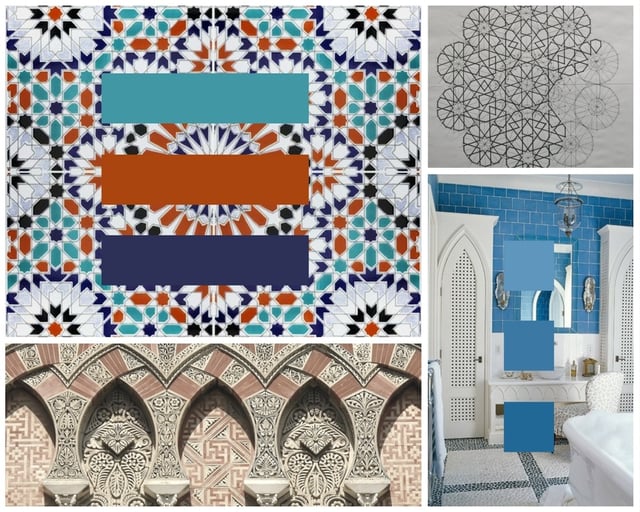 They wanted to pay homage and play up those Moorish arches that first drew them into the house. After researching tessellation, playing with patterns, and perusing hundreds of inspiration images, they selected bold primary colors – Gold Rush Yellow, Apple Valley Red, and Turquoise Blue – in traditional arabesque and fish scale shapes.
With the back of their crossover SUV sufficiently stuffed, they drove home and began to create. She loved how the Turquoise Blue matched his eyes and wanted to surround her favorite space with it. He playfully added one red tile to remind her of the fire she lit within him.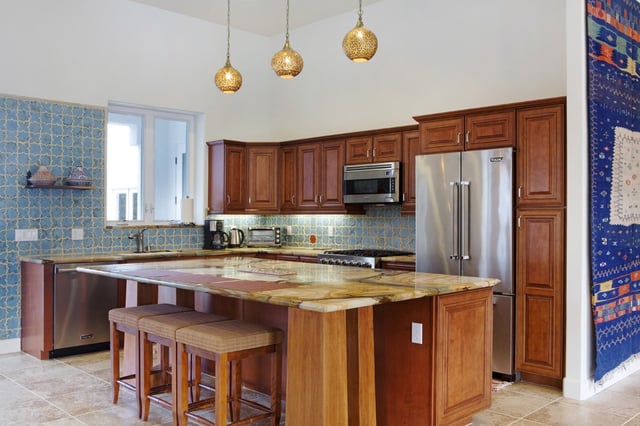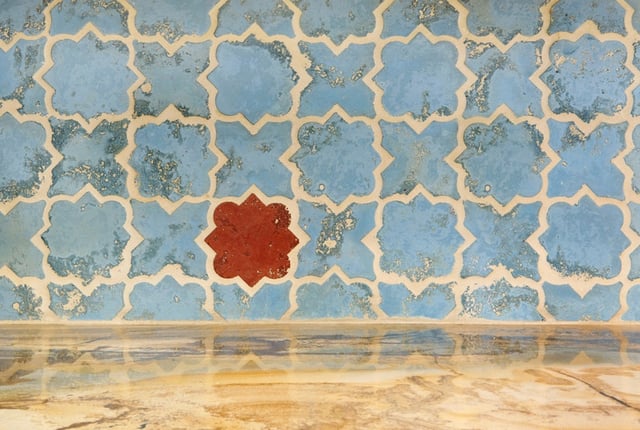 The fireplace they laid out and re-laid out, and re-laid out, watching as it came together piece by piece. Swapping yellow for green and eventually settling for both; breaking the pattern here; adding more of that blue she loves so much…
"It looks like yarn God's eyes I used to make when I was a kid," she reminisces, standing back to appreciate the full piece.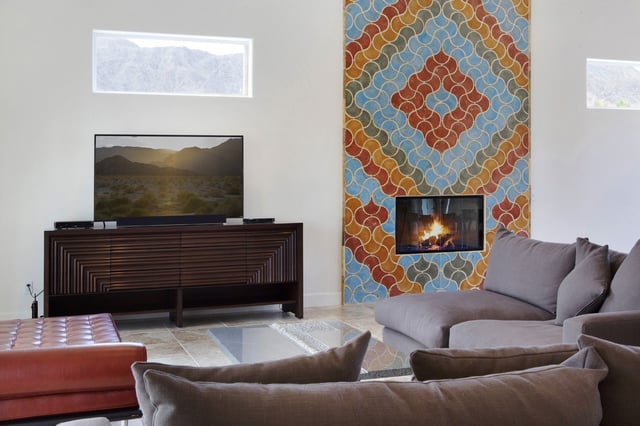 They eat dinner outside and plan their next phase. The fountain, of course, but what else…
"How about the alcoves?" He suggests.
"The alcoves?" She asks, unsure of where he means.
"The cutouts along the stairs. Remember that bathhouse we went to with tile floor to ceiling? It looked like they had even tiled over the windows. We could do that. The tile over the windows look, not floor to ceiling." He added quickly, afraid he had given her the wicked idea of tiling the entire outside of their home.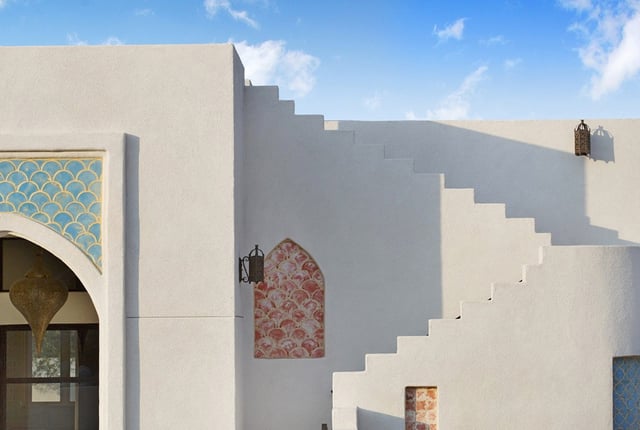 She sat for a moment, observing the mountains and the faint outlines of hiking trails in the falling sunlight. Trying to imagine what alcove would look best in what color. Trying to imagine what else could they add.
"Alright," she said, "but,"
He held his breathe.
"Can we do the stairs too? Like a path to our favorite spot, in case we ever get lost." She smiled. He sighed and smiled back.
"Alright." And he kissed her. Under the stars in the valley where they first fell in love. Above the house they turned into their home.