A classic look dating back to the Roman Empire, a black bottom pool can add an allure to your landscaping unlike more traditionally colored pools. A unique design aesthetic, black bottom pools are not for everyone and everything from the style of the home to landscaping should be considered before jumping into the deep end.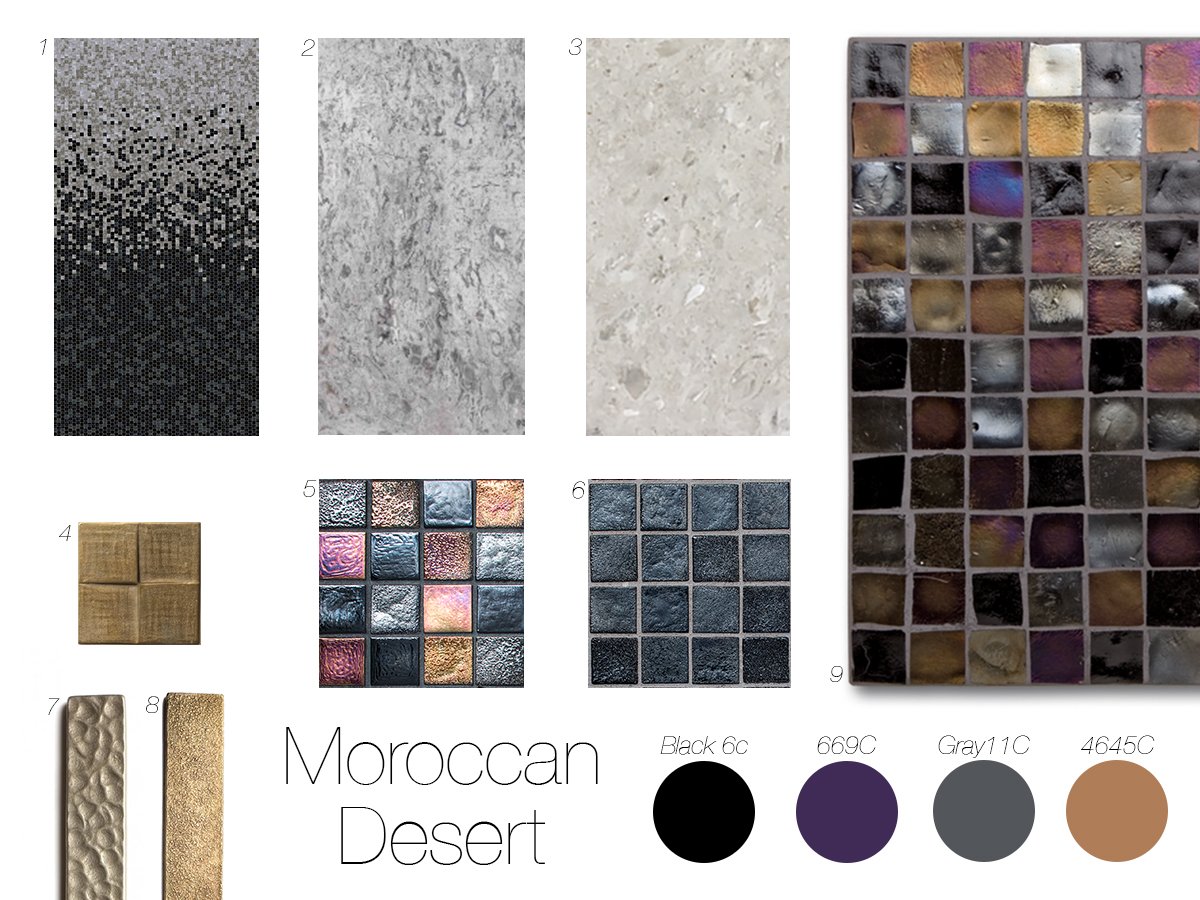 1. Muse 5/8"x5/8" Gradient (Pewter Irid, Platinum Non Irid, Platinum Irid) 2. Natural stone Picasso 3. Natural stone Perle Blanc 4. Metal Accent Terrace Bronze 2.5"x2.5" 5. Muse 7/8"x7/8" Scorpion blend 6. Muse 7/8"x7/8" Pewter Textura finish 7. Metal liner Water song liner White Bronze 8. Metal liner Origin Bronze 9. Tessera 1"x1" Moroccan Blend
Dark and mysterious, black bottom pools are an excellent accent to modern or naturalist homes. On still days, the surface will create a perfect mirror of your surroundings, be they forests of pine trees, the intertwining branches of a banyan tree, or the sturdy cypress. The color of the pool water is greatly affected by the color of the tile -- black bottom pools have an inky depth reminiscent of the deep ocean or forest lakes. A gradient of light gray to black, mimicking the decent of the pool, would give the perception of added depth and enhance the deep water aesthetic.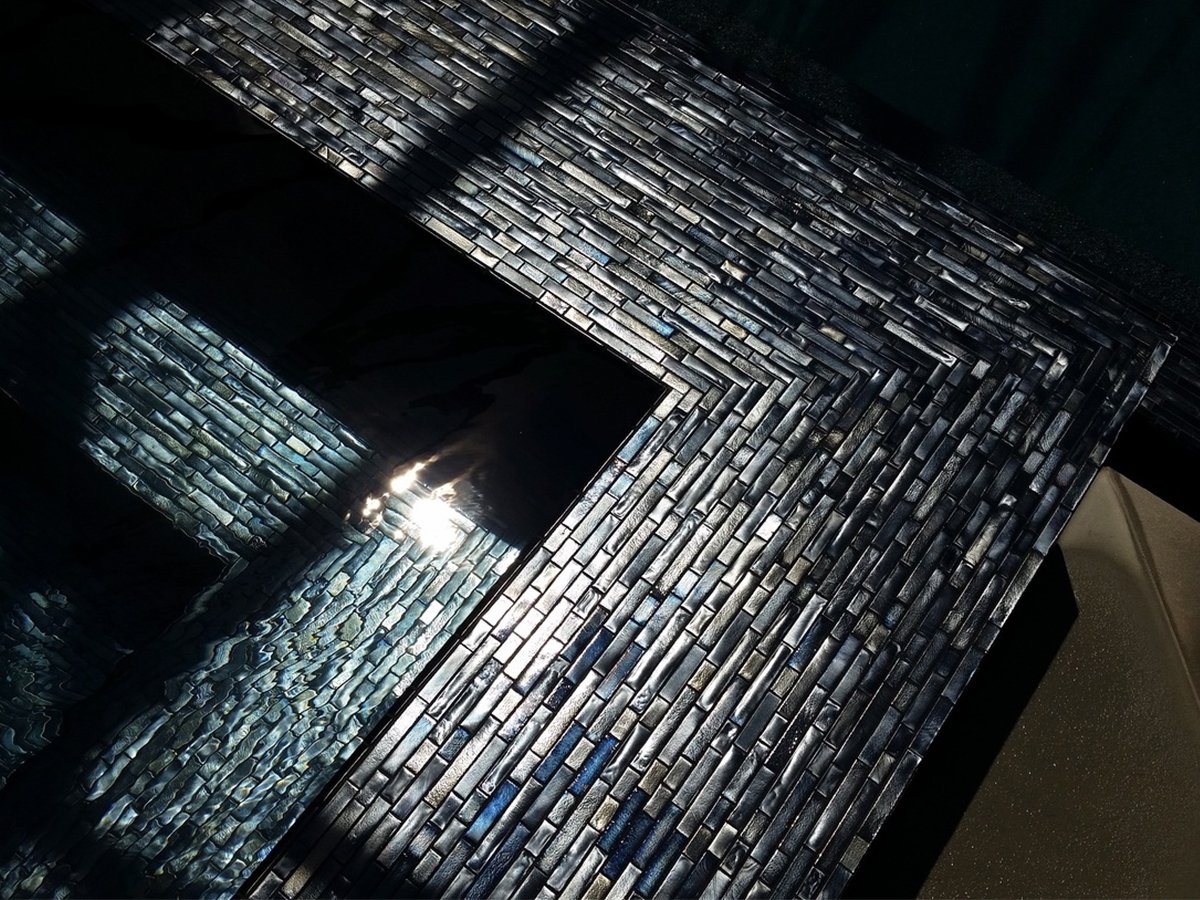 Muse Cadence Pewter Irid | Martin's Pools and Spas
Simple contrasting accents through the pool can allow you to maintain the black bottom look and will help a swimmer gauge depth, distance, and slope of the pool for a safer swimming experience. The Moroccan Desert Blend by Oceanside Glass & Tile combines Bronze Iridescent, Pewter Iridescent, and Black Non-Iridescent tiles. When installed in a pool, the blend is like the night sky twinkling back at you. The Moroccan Desert Blend is currently offered in a 1" x 1" mosaic size as part of Oceanside Glass & Tile's In-Stock program. Contact your local glass tile representative to request a sample.
Made from recycled glass bottles from local curbside recycling programs, the Moroccan Desert Blend is 98% recycled content, one of Oceanside Glass & Tile's highest recycled content blends. Use Moroccan Desert blend to contribute towards LEED V4 points, or in the creation of your sustainably focused home.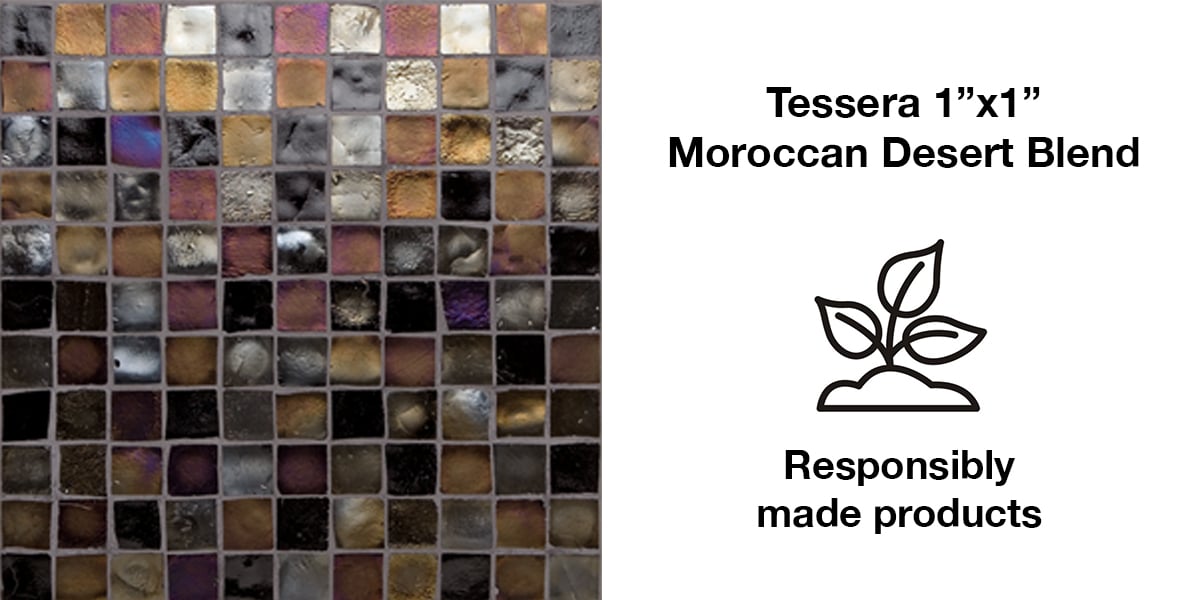 Ready to build a backyard oasis? Oceanside Glass & Tile's A+D Sales + Design Executives are ready to help you discover, sample, and order your perfect tile, pavers, or coping. With direct access to time tested manufacturers, the A+D team is excited to share with you their catalog of antique mirror, ceramic, cement, glass, metal, porcelain, and stone. Contact your rep today!